The Communist Party and the government of China always pay close attention to the development of printing technologies. A principle proposed in the 12th National Congress of the Communist Party of China emphasised the importance to construct a high level of socialism spiritual civilization whilst constructing high-level material civilization; hence also a high demand on printing industry.
To implement the Decision on Strengthening Publishing by Central Committee of the Communist Party of China and the State Council, and also to promote the technological transformation and upgrade of China's printing industry, in the year of 1984, with the approval of the Sate Council, the first session of CHINA PRINT (Beijing International Printing Technology Exhibition) was jointly held by China Council for the Promotion of International Trade and the State Economic and Trade Commission at the National Agriculture Exhibition Centre. CHINA PRINT was then decided to be held every four years; as of now it has successfully held for eight sessions.
Along with 30 years' development, CHINA PRINT saw every step that China's printing industry experienced and the great fruition that not only China's printing enterprises and industry but also the exhibition have been "qualified" to be shown to the whole printing industry in the world. CHINA PRINT proves to be not a domestic brand exhibition anymore; instead, it is a great international exhibition for the whole printing industry.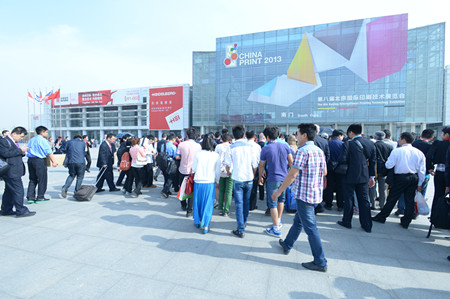 Grand Exhibiting Scale Representing Asia's Top One
As a comprehensive international printing exhibition held by China, CHINA PRINT has always been paid close attention and participated actively by printing enterprises. In the last session (CHINA PRINT 2013), all 8 in-door exhibition halls were fully occupied, and 11 out-door temporary exhibition halls were built; hence 160,000 square meters total exhibition area. Be that as it may, the feedback shows that there were still a few exhibitors whose demands and desire to expand their exhibition area were not completely satisfied. In order to better meet exhibitors' needs, CHINA PRINT 2017 plans to occupy more than 160,000 square meters as its exhibition area, which will definitely keep its top 1 international printing exhibition in Asia.
Special Designed Sections Facilitating Business Matching
In corresponding to the increasing scale of the exhibition and the growing number of exhibitors and visitors, CHINA PRINT 2017, with targeted advertising plans designed, sets 6 exhibition halls covering various hot issues of print market and 8 special zones facilitating both professional buyers and exhibitors in trading.
The six special exhibition halls are:
1. Comprehensive Printing Hall;
2. Digital Printing Hall;
3. Label Printing Hall;
4. Post-press and Packaging Hall;
5. Equipments and Consumables Hall;
6. Frontier Technology Hall.
The eight special exhibition zones are:
1. VOC Treatment Zone;
2. 3D Printing Zone;
3. RFID Zone;
4. Internet + Industrial Robot Zone;
5. Internet + Printing Zone;
6. Internet + Packaging Zone;
7. Internet + Media Zone;
8. Internet + Electronic Zone.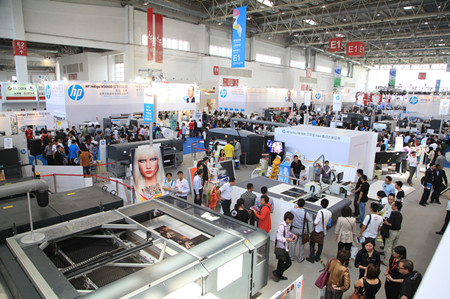 Prestigious Print Enterprises Providing Total Solutions
CHINA PRINT 2017 will be an international printing exhibition of the largest scale and the greatest importance, and has always been paid close attention by not only cross-border but also domestic printing enterprises. The exhibition is to be participated by prestigious enterprises from both home and abroad focusing on traditional offset printing, digital printing, package printing, label printing, printing plates, post-press and consumables. Some of them plan to release their latest printing products to China, Asia or even to the world.
New Technology Zones Promoting Industrial Development
The development of printing industry is driven by innovations and technological upgrades. Inspired by printing technologies, CHINA PRINT 2017 establishes special exhibition zones for new technologies in various fields of printing to showcase the latest technologies and products. Also, prestigious brands, specialists and scholars are invited to illustrate and interpret the future trend, development and applications of the up-to-date printing technologies. Combined the technology exchange with the showcase of the products, it is no doubt that CHINA PRINT 2017 will promote the development of both printing technology and the print market.
Various High-end Forums Enriching Concurrent Events
During the exhibition period, there are various concurrent events: high-end forums e.g. Forum-PI (aka. International Forum for the Development of Printing Industries), China Print Summit, Forum for China's Label Printing Industry; and other specialised, advanced and various event e.g. the 6th China Print Awards Ceremony, Asia Print Meeting and National Theme Days. Via the concurrent events, CHINA PRINT 2017 enables to show the future trend of printing industry, and offers opportunities for both visitors and exhibitors to communicate and exchange their views on contemporary printing industry and possible developments for its future.
Global Resources Integration Boosting CHINA PRINT 2017
1. CHINA PRINT 2017 takes PEIAC's advantages of its great industrial influence: 10 sub-associations, 7 working committees, 48 group members and other municipal printing related industrial associations have engaged in the preparation and publicity of the exhibition.
2. CHINA PRINT participates in overseas and domestic printing exhibitions and related activities for better publicity and further cooperation.
3. Nearly 100 Media from over 30 countries are engaged in the publicity of CHINA PRINT 2017.
4. Invitation letters, tickets, emails and faxes are sent to overseas professional visitors directly; invitations are made to domestic visitors via telephone, text message.
5. Innovative approaches are designed for passing news and information of CHINA PRINT 2017: official website, official WeChat and official App.
6. Members of printing associations from different provinces, cities and autonomous regions and related associations, such as packaging associations and publication associations, are organised to visit CHINA PRINT 2017.
7. Overseas printing equipment users and professional buyers are invited and organised to visits CHINA PRINT 2017 thanks to the network of Asia Print and Global Print, printing associations and related organisation of whose member states are also organised to visit the exhibition.